1. The Southern Rose – Monogram & Gift has been open for 2 YEARS! Time flies when you're having fun. Come & celebrate our 2nd birthday this weekend! Details here.
2. My first business, Wild Rose, started in my parent's basement…. and my sisters were FORCED to work (for free). We now have a team of amazing gals that LOVE to help you find the perfect gift & are experts on personalizing your items. You will love EACH of them!!! Come & meet them!
3. We are a faith-based business — you can find uplifting gifts & Christian reads here! (Not ALL of our products are Christian, but we pride ourselves in having an array of religious themed gifts. My rule: If my Grandma can't read it, it doesn't come in the store!)
4. We were the first brick-and-mortar monogram & gift store in Columbia, MO!
5. We sell all kinds of monogrammed items online on our website – www.southernrosemonograms.com! Be sure to check it out. We offer FREE shipping at $49 and FREE local pick-up! Don't have time to come in and order but still want a personalized gift? Order online & pick up in the store in just a few days!
6. We attend several different shows and conferences throughout the year to bring you the very BEST items (and services) back to Columbia!
7. We have relationships with over 200 vendors — each with amazing products! We currently have about 140 vendors represented in The Southern Rose.
8. All of your embroidery and vinyl orders are completed in the store! Yes, we do each item personally and ensure that the quality is unmatched! Custom jewelry and wooden monograms are the only things outsourced by other vendors that we work with.
9. You can find gift items in several different product categories — baby, wedding, home decor, apparel, accessories, etc!
10. Since opening in 2016, we have done over 15,000 monograms!!!! That number is simply mindblowing and oh so sweet to see! We work HARD to ensure our monogrammed items look PERFECT before leaving the shop. We promise you'll love your custom creation when it comes from The Southern Rose!!
THANK YOU, COLUMBIA! We have had an amazing 2 years and can't wait for the years to come! If you haven't been in yet, pop by and see us!!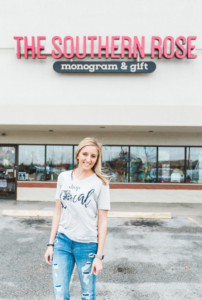 Follow us on Pinterest, Twitter, Instagram, or Facebook to stay in touch!!