Here's an overload of information for our shoppers to use to help make Christmas shopping at The Southern Rose & Rosebuds even easier. We have a TON of new items in-store & hope to see you (or your name shopping online) soon!! We are so thankful for you all!
Hours: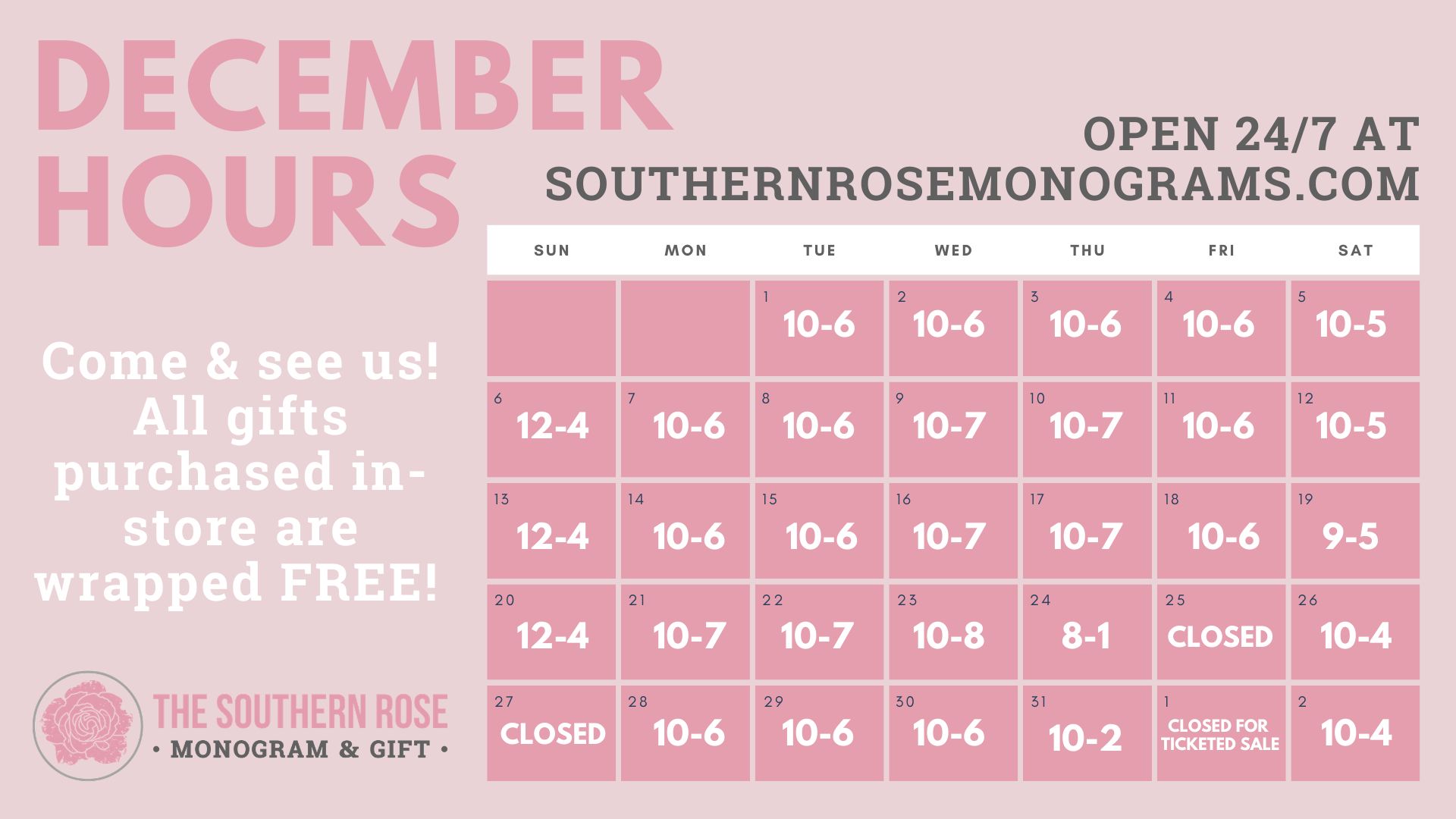 Note: If you want a private shopping time, simply message us or e-mail mackenzie@southernrosemonograms.com. We are happy to come in early and let you have the store to yourself if scheduled in advance!
Cutoffs:
Monogrammed items are taking us about a week to complete right now. We are anticipating shutting down orders needing shipped earlier than normal this year. It will likely be sometime the first week of December...ONLY if the item(s) need shipped! We will keep our in-store / pick-up option open as long as possible! Last year, we didn't cut off in-store pickups until December 20th!
If you need it shipped, please please please get your orders in ASAP so you can guaruntee Christmas delivery!!
Inventory:
We have a lot of inventory right now. Like, the most we've ever had.... but things are selling fast & we won't be able to restock between now and Christmas. If you see something you love, order it or come by and grab it! We have a great selection of items in-store and online for you to shop. Our website has about 80% of our current store inventory on it! Our team has worked so hard to make this happen so shopping can be even easier for you all this year!
Events:
"Black Friday & Small Business Saturday" deals will be happening all week long next week (11/23-11/28). We will be CLOSED on Thanksgiving.... and come back Friday / Saturday with some major BONUS deals & FREE gifts! More details here! We have the BEST gifts yet -- a total gift value of $78 if you spend $200+ in the store(s).
Shipping:
We are offering SHIPPING for customers making in-store puchases in the store this year. We have forms to simplify the process! Read more information about shipping gifts here!
Curbside Pickup:
Don't want to get out but don't want to pay for shipping? We don't blame you (honestly, I do Target drive-up weekly). If you're in the front row, we are happy to run your order out to you! Shop online & select local pick-up at checkout. When we text that your order is ready, give us a call and we will bring your order out! So easy!
Gift Curation:
Our team of experts is READY to help you find the perfect gift! Simply message us on Instagram with a budget & age range and let our team do the shopping! We'll send back options that we love just for you! It's the easiest way to shop - promise!
If you have any other questions, please reach out! We are happy to help!
See you in the shop soon!!
MacKenzie