30 Year Anniversary Celebration
February 14, 1992 - February 14, 2022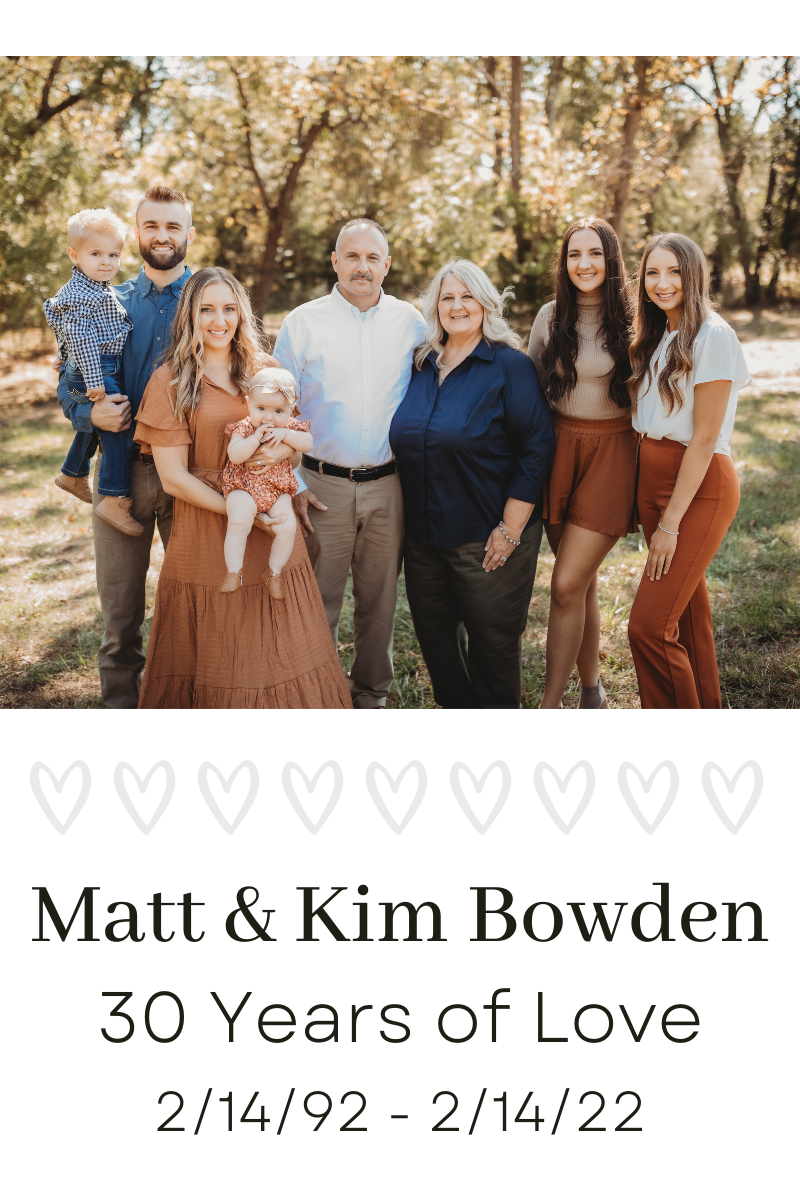 Today is Valentine's Day… but it's also my parents' 30th wedding anniversary. What a special, joyous milestone to celebrate! I hope one day, Tyler and I share in a 30th celebration at breakfast with our grandkids after church on Sunday. I hope one day, Tyler and I share FUN, adventures, and life together just like my parents. I hope one day, my daughter is looking at my marriage, our life decisions, and our legacy praying for that in her life too.
About the Bowdens
If you know one, or both, of my parents you know that they're some of the best people to walk the earth. They have loving, servant hearts of pure gold. Time and time again I've watched as they swoop in for loved ones, put their "offering" directly into the hands of those that need it, and show their love for the people needing it most. My mom makes cinnamon rolls (the BEST cinnamon rolls I might add) and delivers them when people need a pick-me-up, when they're in the sleepless newborn phase, or when they're at home recovering from a sickness or surgery. My dad jumps right in coordinating these "missions" and chauffeuring my mom (if he's off duty).
About My Mom
My mom has been a teacher most of my life (she stayed home with us for a while before heading to the classroom). I'm pretty defensive about teachers and their pay after watching what my mom does outside of her job requirements that she doesn't get paid for (or reimbursed for) – like slipping extra gloves into a backpack of a child that walks to school year-round without proper attire or spending an extra few hours at school on a weeknight to help get books into the hands of every child for Christmas.
About My Dad
My dad has worked in the Jefferson City Fire Department my entire life. Literally. He celebrates 31 years there in March (and I turn 30 in June). An impressive career to say the very least – and I thought I was most proud of that one until recently…..when my Dad, my very-fire-chief-meets-drill-sergeant-Dad, spent hours studying to pass a sub certification test so he could go substitute teach on his days off. He doesn't need the money (LOL at how much it probably is per day)… and he REALLY could probably find something to do on his off days (I always have jobs for him). He simply loves the kids and playing an active role in the lives of the ones he's connected with. Aren't the kiddos at "my parent's" school lucky?!
About The Bowdens
In their time away from work and serving their community, they spend nights and weekends chasing Blackberry Smoke across the country (I think they've been to almost 30 shows now), riding their motorcycle, or spending time with their grandkids. Lots and lots of time when they're grandkids….They've been there for all three of us girls time and time again when we need them – moving us to college or across the country, helping with broken vehicles or hearts, and always, always teaching us how to love and how to serve.
I'm so proud to call them my parents and I'm so lucky to celebrate a BIG anniversary celebration with them this year. Happy Anniversary to the very BEST – we all love you to the moon and back again!
- MacKenzie