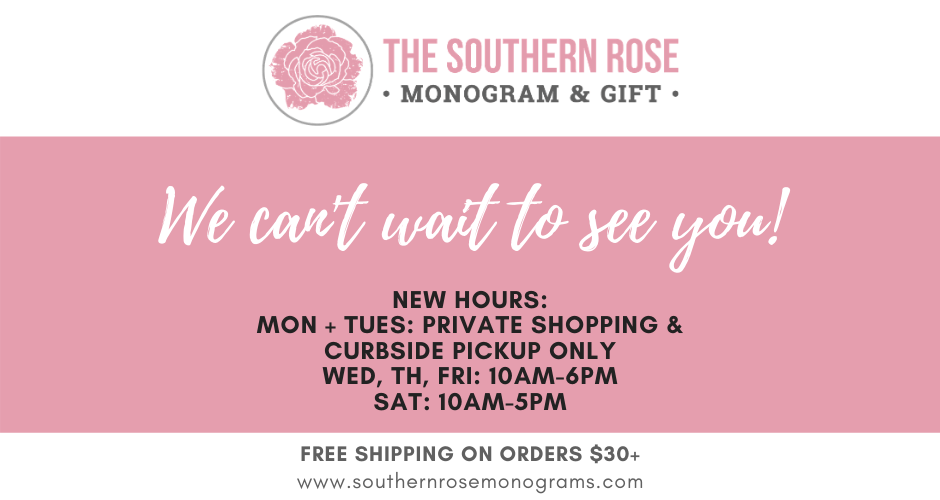 Raise your hand if quarantine went super fast & super slow all at the same time! *everyone raises hands*
It feels like just yesterday we had the doom & gloom of a closed storefront ahead of us. It was daunting, scary, and lonely at times but we stretched ourselves and made it work (and eventually saw the good in this break). We thank you from the bottom of our hearts for supporting us - through orders, prayers, or simply just sharing our name with you friends. We couldn't have survived without you!
The TSR team made the best of our time -- painting the store, rearranging the store (approximately 10 times), and finding new ways to serve you guys! We've had so much fun helping you guys create custom gift packages via text or message (or FaceTime). We've packaged up more goodies for shipping than I ever imagined possible (casual shoutout to Jeremy Robinson for being the BEST mailman EVER). We've laughed and cried and laughed again. And now, we're so, so ready for a "new normal."
It's in my nature to want to throw a big party & have some fun. It's also in my nature to hug people. I really can't wait for the day we can safely throw a GIANT party at the stores & celebrate -- but, for now, I am 100% okay with just seeing everyone from a safe distance!!
We have been planning and preparing for a "reopening" as much as possible these last few weeks. We're really not sure how things will go or change in the world post-quarantine (because, let's be real, we are NOT a world post-Corona & won't be for a while...or ever? Not really sure). Anyway, I would be lying if I said there weren't equal parts of worry and anxiety as we brace ourselves for more human interaction again & a flow of customers in our stores. With that, we want our customers to know we are JUST as anxious as you about keeping things cleaned & sanitized for our own safety, as well as our customers. We've partnered with a local cleaning company to add in some bulk hand sanitizer & added a heavy-duty sanitizer to our arsenal. We will work diligently between customers to wipe down the counters, card, readers, doors, and other surfaces. We will steam apparel tried on between guests & continue to monitor the number of customers in the stores at one time. Note: We will remove all toys in the back of Rosebuds for the time being. We hope your kiddos can come back to play again soon but for now we feel this is best for us all!
With that, we hope to see you soon & hope you know that your safety and comfort is of utmost importance to us at The Southern Rose & Rosebuds!
So, what will our new week look like?
Beginning May 4, our weeks will look like this:
Monday & Tuesday: We will have staff in the store from 10am-4pm. On these days, we will keep the storefront "closed" for regular flow traffic. If you are wanting a private shopping experience, we are happy to schedule a time on these days to offer you the store to yourself (or a small group if you're wanting some time out but don't want to be with a bunch of other people). We will clean all surfaces right before you arrive & allow you the peace of mind of a store all to yourself! We will also offer curbside pickup on those days. So, feel free to call the shop for any assistance!
If you wish to come in and shop on Monday / Tuesday, we do ask for a phone call or message in case there is a private shopper at that time. Likewise, if we have a private shopper coming in at a certain time, we want to be sure we don't overlap your experiences. Please e-mail mackenzie@southernrosemonograms.com to setup any private shopping times. We would love advance notice if possible so we can be prepared for you!
Wednesday, Thursday, Friday: We will have the stores open again & will keep things as clean as possible with hourly scheduled cleanings. We will have our normal hours of 10am-6pm! We cannot wait to see smiling faces again & help you with your gifts & shopping! We have truly missed you all!
Saturday: We will have both stores open for our normal 10am-5pm hours. We can also accommodate a group of 10 or less from 9am-10am if you wish to have the store to yourself or small group before we open up. These arrangements must be made in advance. Please e-mail mackenzie@southernrosemonograms.com to setup any private shopping times.
We will continue to update you as hours change & we adjust. All orders $30+ ship FREE! Order online at southernrosemonograms.com or DM us to order! We are happy to invoice via PayPal or take payment over the phone! We are here for you!
Any questions? Feel free to e-mail mackenzie@southernrosemonograms.com!
We look forward to seeing you soon!
- MacKenzie & The Southern Rose Team -