We know just how hard it can be to find the perfect gift, especially for those hard-to-buy-for-people. We also know that with many life celebrations and events to celebrate, the costs can really add up when trying to find unique, customized gifts for the people you love. At The Southern Rose Monogram & Gift Boutique, we strive to offer trendy, affordable personalized gifts that will truly make an impact. We use the highest quality brands and materials to offer long-lasting, custom gifts for everyone! Read this blog to learn more about our custom gift ideas we have for everyone you're shopping for. Our team is in-store Tuesday-Saturday weekly and happy to help assist you in creating the perfect custom gift. Send us a message on Instagram or give us a call and a personalization expert will help you find the perfect item, perfect font, and perfect color for your custom gift needs.
1. Custom Embroidered Monogram Hats
We LOVE wearing custom monogram hats or embroidered baseball hats every single day. Whether it's a bad hair day or you're in a hurry, a custom embroidered baseball hat is the way to go! There are truly so many possibilities for customizing your monogram hat. Pick your baseball hat color, select from our unique monogram or personalization fonts, and pick a thread color. Our team will custom embroidered your baseball hat in just a few days! The best part about giving a custom embroidered monogram hat is that EVERYONE can use more than one customized baseball hat in their wardrobe. You can leave your custom hat in your car, at work, or at home but no matter what, we promise everyone will find use for more than one custom embroidered hat. Choose a monogram, add a single embroidered letter, or pick a word. You can even embroider a phrase on your new embroidered hat. These beautiful monogram hats are not only gorgeous, they are affordable and make good girlfriend gifts if you need to buy for more than one person.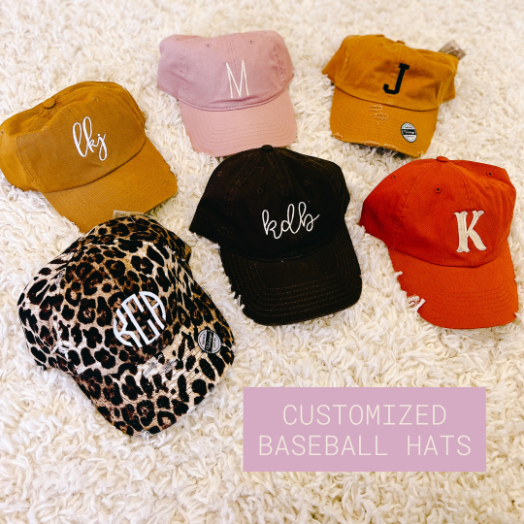 2. Embroidered Makeup Bags & Nylon Pouches
Our nylon makeup bag collection has grown tremendously since first launching in 2021. Our nylon pouches work as cosmetic bags, organizational bags, or even for apparel when you're packing! The nylon material is high-quality and can easily be cleaned by wiping them down. Even if you use your nylon makeup bag or pouch every day, you won't be able to tell! These nylon pouches come in TONS of colors, from neutrals to bright! And, you can pick from TONS of thread choices to add custom embroidery monograms onto your new nylon pouch cosmetic bag. If you're in a hurry, adding an initial chenille patch is a fast and easy way to customize your new nylon makeup pouch.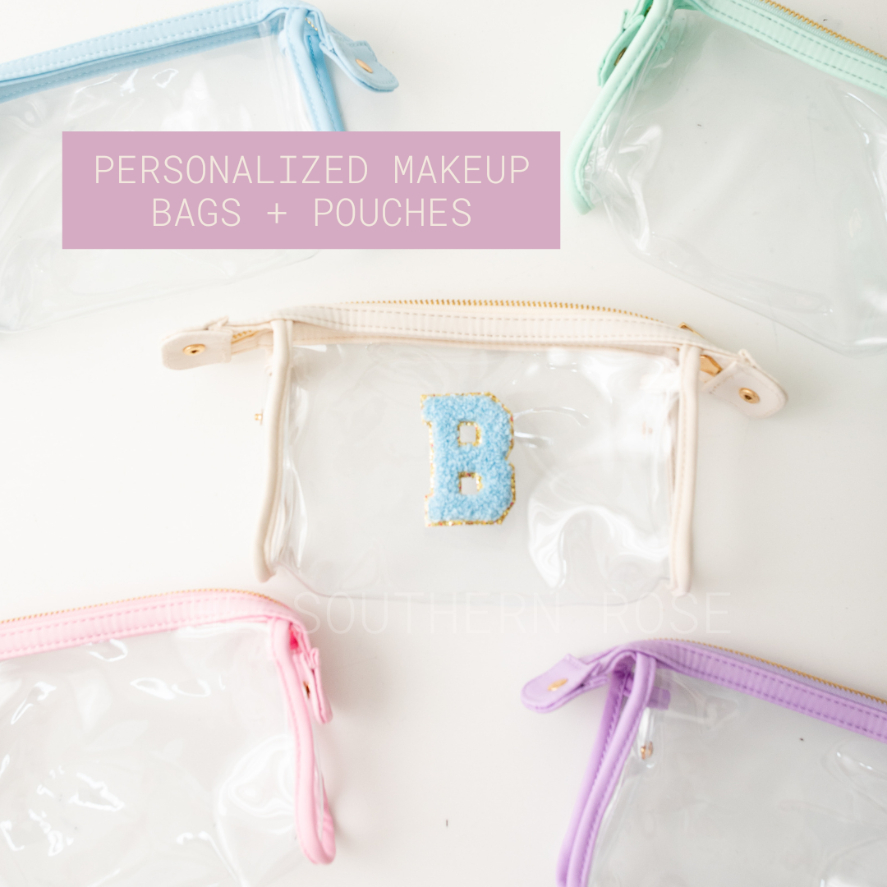 3. Monogram Shirts & Sweatshirts
Custom embroidered sweatshirts and monogram shirts are all the rage! We love customizing sweatshirts for you guys with your names, your monograms, your titles, or even just a phrase you love. Choose from our high-end custom embroidery or our screen-printed feel. We know you will love a new custom sweatshirt and so will anyone you're shopping for! There's nothing better than wearing a garment you know is unique to you! Add the word 'nurse' or 'doctor' to celebrate a medical school graduation. Add 'mama' or 'bride' to celebrate an exciting new life milestone. We can customize your sweatshirt any way you'd like! Think outside the box this Christmas and order an embroidered sweatshirt for a loved one. Add 'grandma' or 'nana' and make her day! The possibilities are truly endless.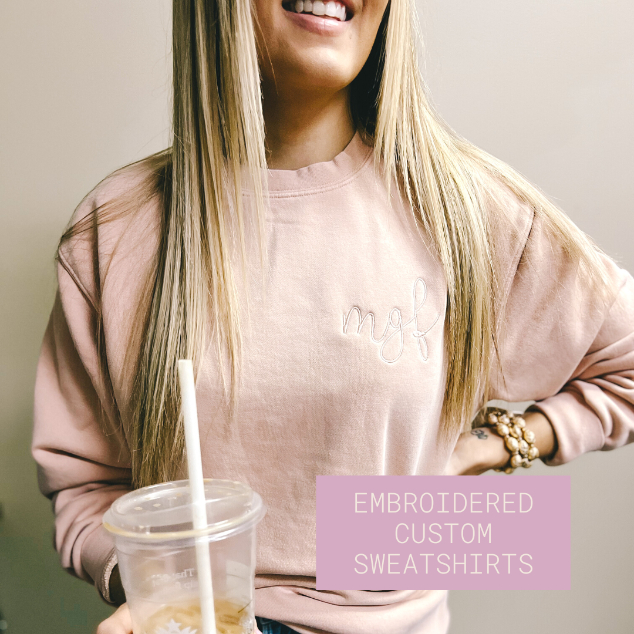 If you need help putting together a custom gift order, come by our monogram and gift store in Columbia, Missouri. Our monogram boutique is known for the trendiest fonts, colors, and garments. Let's create a stunning custom gift set today - see you soon!