The Southern Rose + Rosebuds
Holiday Shopping Updates
It feels like every year I write this blog with a ton of information to share with each of you about the holidays and then have a small panic attack. I never can believe how quickly the past year went and suddenly feel extremely unprepared for what's ahead....except this year. Weirdly enough, we feel more prepared than normal and can't wait for the *frenzy* that will begin soon. I'll also use this moment in time as a reminder.... we are a small business just doing our best. We truly value each shopper and their experience and want to provide the best possible for each of you! We are also going to be running on minimal staff (like the rest of the world) and extra-long hours. Some of us have kids at home. Others of us are in school still..... please be patient + understanding! This can be a great time for us each to show love to any retail worker, service industry worker, etc that is truly pushing it to the limit to serve you! Our monogram and gift store is full of the latest and greatest in unique, personalized gifts for anyone on your list. Our baby and kid store is FULL of toys, books, games, apparel, and more for your little crew! We hope you'll make plans to come and shop with our family soon! We love you guys!!!
Can't make it in? Read below for easy ways to order!
General Retail Update:
It's the end of 2021 - which means we're close to the two year mark since we first had the dreaded "virus" rock our worlds. So many things have shifted in our industry and we've seen the effects firsthand as our business has worked to grow (and pivot) when the changing retail climate. Shipping is taking longer for many of our vendors (not just in reference to the shipping containers stuck in the ocean). There's fewer workers in many places so an order that used to ship to us within a week of placing it is sometimes taking 2-3 weeks + shipment time. Read: most of the items you see in-store at any given time between now and Christmas will not restock.
How did we prepare?
We have ordered more (quantity) of nearly everything - especially from brands we know you love to gift! As our big brands restock popular items, we will too. But really, what I said above is true. Most of the items we have in-store will not restock. So.... if you see something you love, grab it now! Rosebuds is PACKED with the BEST gifts for babies and children of all ages. The Southern Rose is PACKED with so many fun items and MANY of them are exclusive to our storefront. We've been working for months now to bring in items that you'll only see here! EEEEK! Our current exchange period is 14-days for store credit. All purchases made between Black Friday and Christmas will be extended through January 10th for store credit only. Exceptions to this -- all seasonal merchandise is final sale (always). We will also not be able to exchange any boutique apparel purchases past our normal 14-day store credit window - we can explain why in another blog. If you have any questions on what will qualify for the extended exchange window, please ask before purchasing if the item is in question.
Holiday Season Storefront Hours: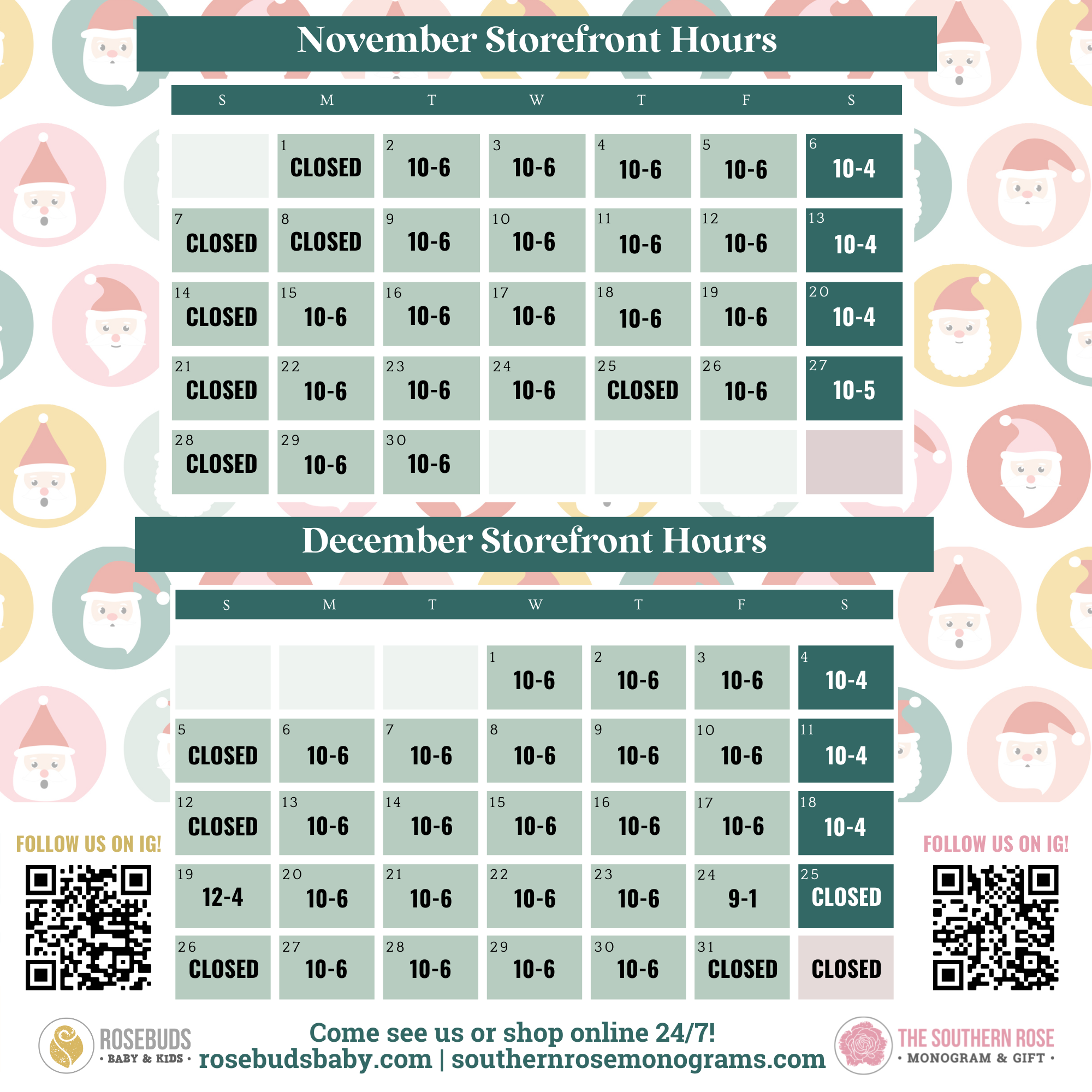 Easy Ways to Shop:
Come and visit our boutique storefront! Our extended holiday hours are above!
Shop online 24/7 at southernrosemonograms.com! Shipping is free on orders $50+ (or you can always do FREE local pick-up and come get your order at another time)!
Give our sales team a call at 573-815-7673 to order a gift or make a purchase over the phone.
Text our team to place an order at 573-608-1308. We can send an invoice via Paypal or take your information via text (and delete it) to get your order processed ASAP!
Direct message us on Facebook/Instagram (Note: as we get busier in the storefronts, we cannot answer messages right away. Give us a call so we can secure your item as soon as possible to avoid an in-store shopper purchasing)!
Custom Order Turnaround:
Our in-house personalization is typically 4-5 business days from purchase. With an increase in orders, we will see this turn-time go up to at least 7 business days from purchase. We will announce in plenty of time when our customization orders will cut-off. Please note - if you are bringing items in to us, that cut-off is typically earlier than items purchased in our storefront.
Upcoming Events + Fun:
You can RSVP for our Black Friday + Small Business Saturday event here. We will post our promotions in the event soon - but we've been working on it since JUNE and we promise you will want to be shopping (in-store or online) that weekend!
Have any other questions? E-mail mackenzie@southernrosemonograms.com!