Important updates / reminders around The Southern Rose for all of our amazing customers! We hope you choose to #shoplocal this holiday season – we'd be honored to have you!!
Upcoming Events

Black Friday + Small Business Saturday

RSVP to enter to win a gift card! You do NOT want to miss the deals we've got going on!!!
Announcing the discounts & doorbusters next week so be sure to join the Facebook Event!

Guys Night – December 6 – 6pm-8pm

Fill out a wishlist at TSR (details below) and send your man to come shop it (and have a beer) with us! We promise to help him pick out an amazing gift!
Beer, finger foods, and the TSR team helping all Columbia area men do some holiday shopping (for anyone on their list)! Send them our way!!!

Personalization

Reminder: The closer we get to Christmas….the longer it takes us to get your items to you. Please plan accordingly & be patient. We PROMISE our elves are working hard from sunrise to sunset to get your goodies completed! Our current turnaround time is still "normal" but could increase as we get closer to the big day! Stay tuned for updates on production times!
You can BRING IN your own items! Yep. We're Columbia's #1 pick for personalization so bring your goodies on by and let us make your gifts extra special this year!

Christmas Inventory

When it sells out, it sells out! Feel free to call to order items over the phone & reserve them if you see them posted on Instagram or Facebook. Note: turn on post notifications to be alerted when we post so you don't miss anything!! Hurry in for the best selection of Christmas ornaments, decor, and more – we DOUBLED up from last year to have the best selection around for you! Seriously, over 100 different ornaments + over 1,000 Christmas items in-store now…. WOAH. Prices from $3!!!!

Invoicing

We are now happy to announce we can send you an invoice for anything you see posted if you can't come in! We're trying to make holiday shopping as easy as possible this year!

Send us a DM on Facebook or Instagram (or an e-mail to thesouthernrosecomo@gmail.com) with the item(s) you would like + a good e-mail for your invoice!
We'll shoot you over an invoice – payment is required same day or the merchandise is released back to the sales floor!
FREE LOCAL PICK-UP or FREE SHIPPING if you spend over $50!

Holiday Hours

Our extended hours begin in December but please note — we have TWO early mornings next week with some BIG savings! Join us for Black Friday + Small Business Saturday (beginning at 9AM)!

Wishlists

Fill out at a wishlist at The Southern Rose with at least 3+ items (e-mail mackenzie@southernrosemonograms.com with some items/photos of things you love and she'll personally create a wishlist for you to share with friends/family if you can't make it in)
Send family & friends in to see us and we'll help them pick out the PERFECT gift for you!!
WIN an item off your list after Christmas!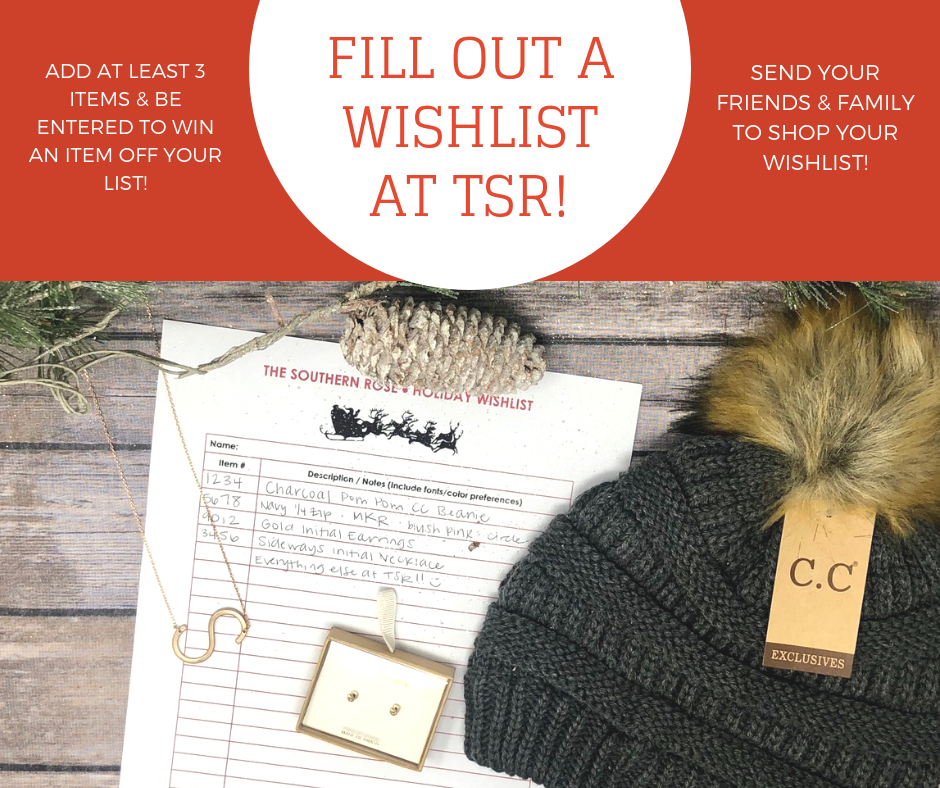 For a little reminder on why it's important to shop local this holiday season (and all year long!), you can read a blog post from earlier this year!
We'll see you soon!
The TSR Team