Trendy Personalized Baby Sweatshirt Rompers
---
Our trendy lifestyle boutique specializes in personalized apparel for ALL ages! Our recent brand launch of To the Moon caters to our younger crowd - with TONS of great options for personalized baby sweatshirts, customized baby sweatshirt rompers, embroidered toddler sweatshirts, and more! Personalized kids sweatshirts make the BEST gifts, especially when paired with our amazing selection of children's toys, books, and accessories available in our kids store, Rosebuds Baby & Kid Boutique.
Custom Baby Clothing + Personalized Baby Gifts
Is there anything on the planet cuter than a baby in a personalized baby sweatshirt romper? We think not! In fact, we are sort of known for being the custom queens and creating the BEST personalized baby gifts! Not to brag but…. You know! After launching our children's store, Rosebuds, we quickly realized there weren't many options for trendy, affordable children's clothing. We also noticed there weren't many options for baby sweatshirt rompers and baby hoodies, so we decided to launch our own. Our new children's clothing brand, To the Moon, launched earlier this year and specializes in comfy casuals for your memory making. We love personalized baby sweatshirt rompers and have multiple styles available. A custom embroidered baby sweatshirt romper is on trend and so cute for all fall and winter. We add knee high socks, tights, or pants and our infant sweatshirt rompers can be worn all year long! We've also got baby t-shirt rompers that work in the same way – just add layers and your personalized baby romper is an outfit you can wear all year!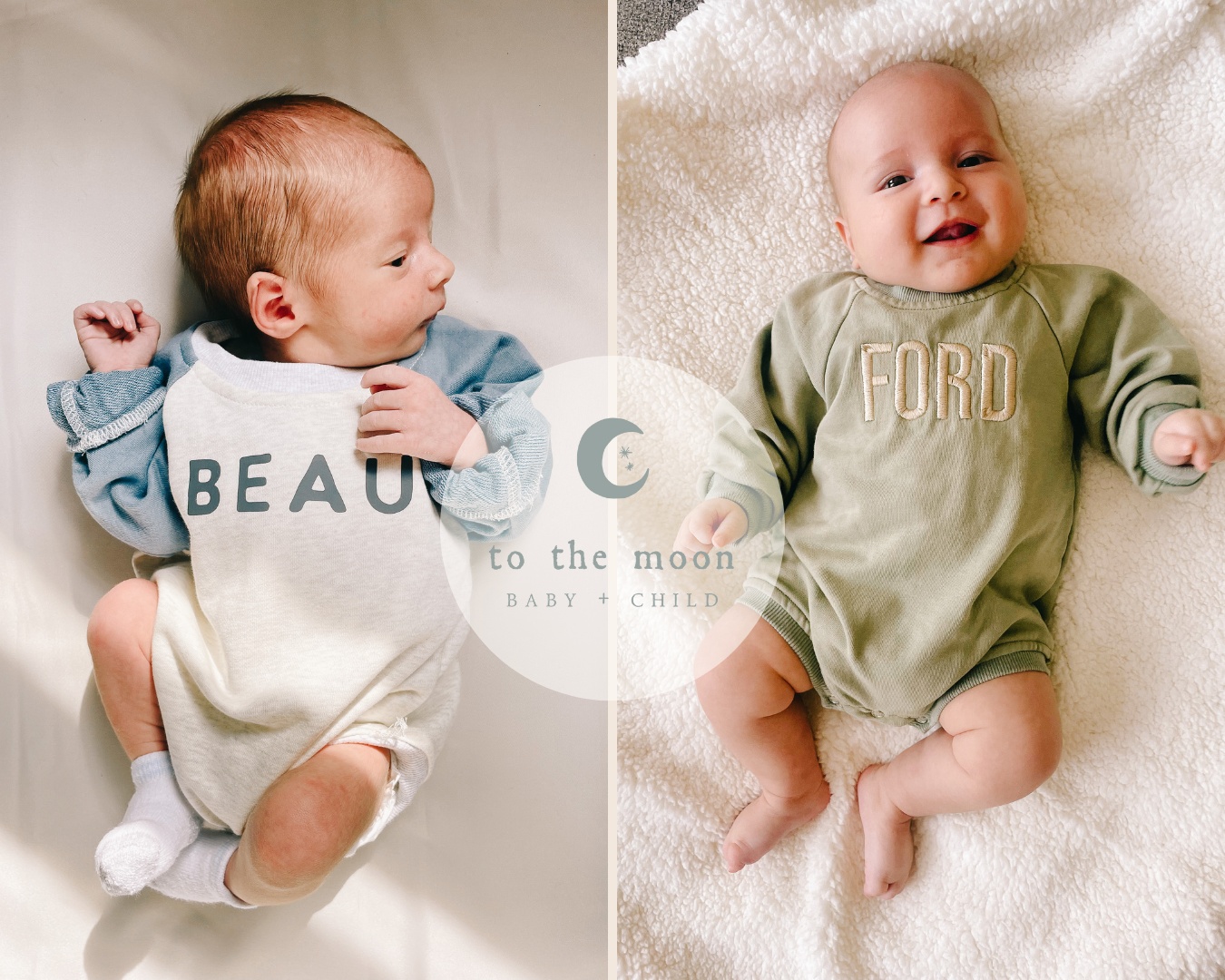 These baby boys in their personalized baby sweatshirt rompers from To the Moon Childrens are just TOO cute - we can't get enough! And yes, they can be personalized with embroidery by our team here at The Southern Rose. An embroidered baby sweatshirt romper? An absolute MUST have for fall and winter!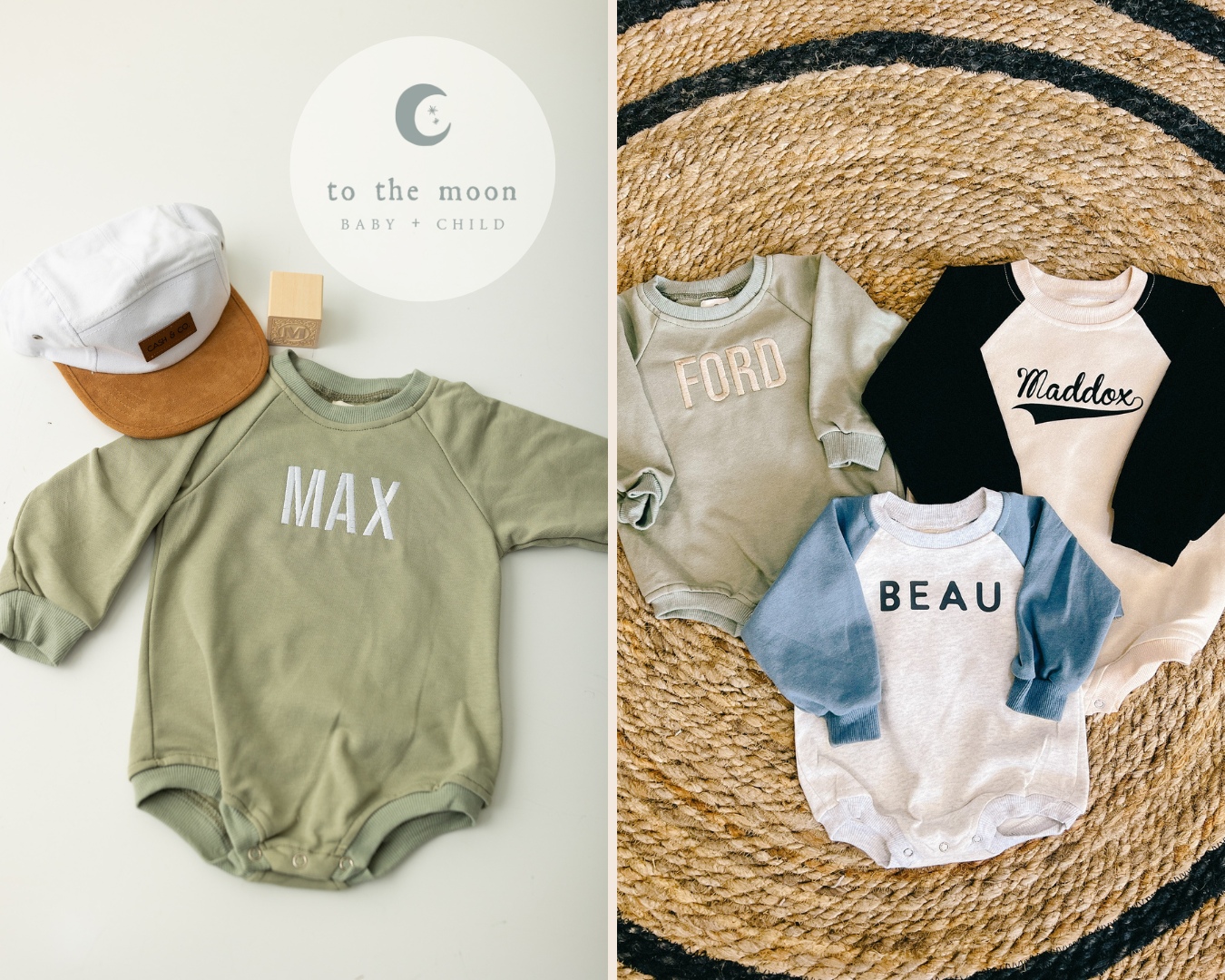 Embroidered Toddler Sweatshirts
Your toddlers are on the go…. Trust us, we've got two at home. To the Moon was launched in 2022 by three sisters. We were determined to create comfortable clothes that were on trend and the best colors. Our embroidered toddler sweatshirts come in multiple colors and coordinate perfectly with our personalized baby sweatshirt rompers! Our entire collection is gender neutral and unique to us. Grab a customized toddler sweatshirt or embroidered youth sweatshirt today for gifts for all occasions! Christmas is coming and the perfect toddler Christmas gift is a fun personalized sweatshirt with their name! It's so sweet when toddlers get to the age where they can read their name and love to see it on everything! Trust us, you should order a custom embroidered toddler sweatshirt from To the Moon and be the hit of the birthday party or Christmas!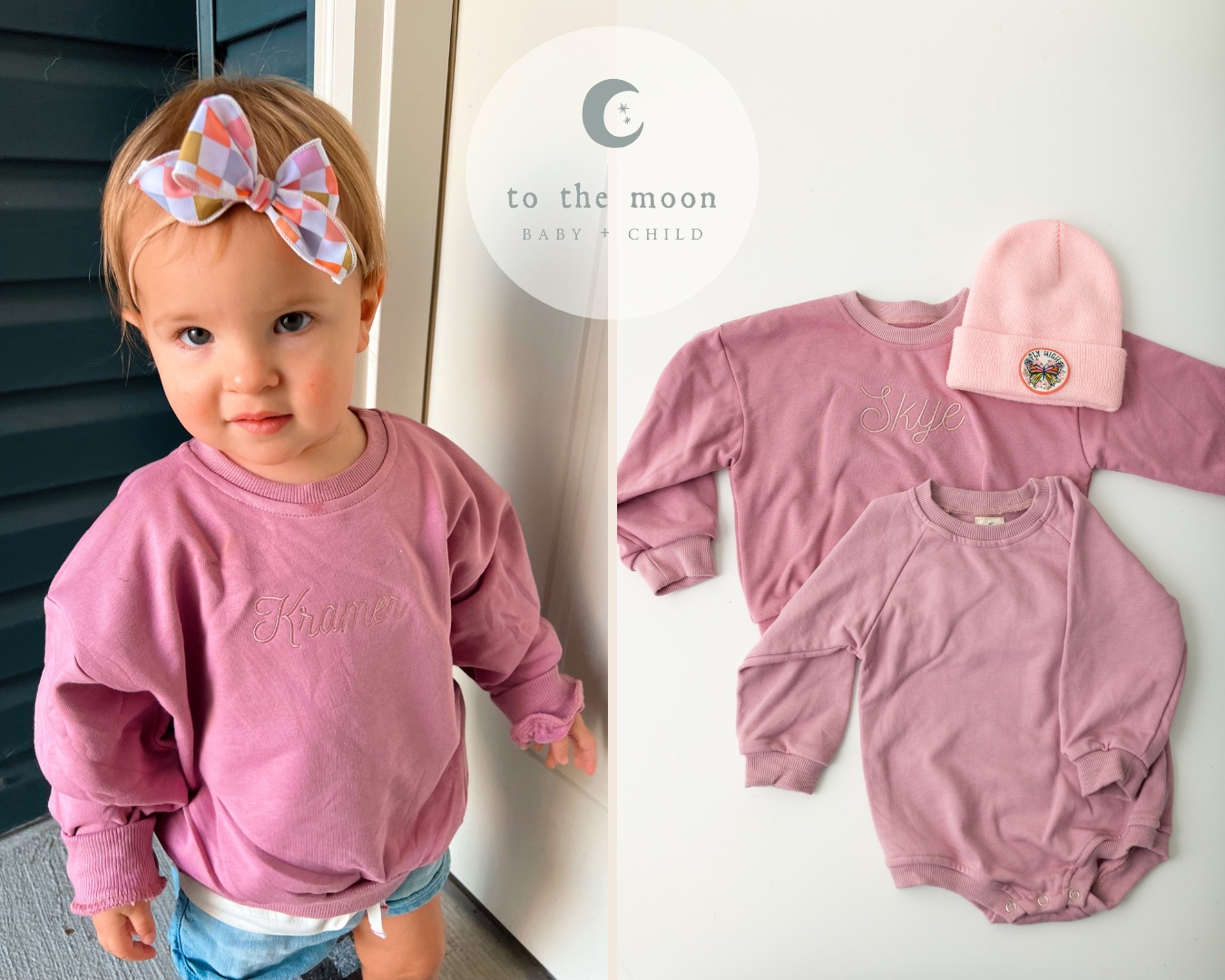 How adorable is this sweet baby girl in her personalized toddler sweatshirt? Get yours today! This group of personalized toddler sweatshirts is from the fall To the Moon collection - they won't restock so place an order today! If you need help deciding on fonts or colors for your custom kids sweatshirts, feel free to reach out to our storefront team or give us a call to get your custom kids sweatshirt ordered and on the way!