Everyone loves getting gifts. There's probably not a person alive that doesn't enjoy the fact that someone thought of them and gave them something to show how much they care. Even when it's "flowers" your 4-year-old pulled from the back yard, it really is the thought that counts.
The way to make almost any gift even more special is with personalization. You've probably seen personalized gifts all over Instagram, so we're going to show you some unique personalized gifts you can share with the people you love the most for weddings, anniversaries, and birthdays.
Weddings
There is something so special about a wedding. A group of people coming together to share their joy and love for two people that are making a commitment to be with one another creates something tangible in the air. It's a moment that should absolutely be celebrated and cherished. Here are some ideas for gifts for the bride to be.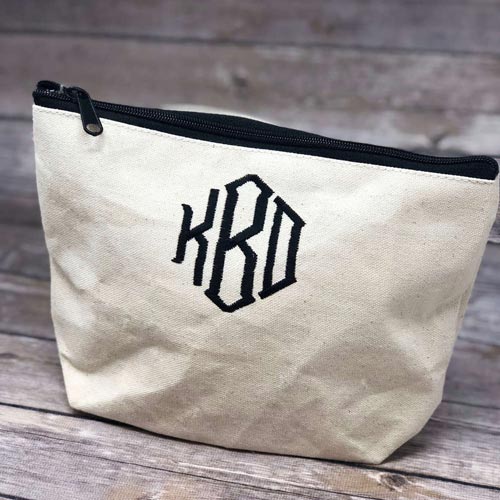 Wedding Date Necklace
A beautiful date should be remembered with a beautiful necklace with the wedding date engraved. This is one of those personalized unique gifts she's not going to get from anyone else and that she'll cherish. You can add up to 20 characters (including spaces and punctuation) and can choose from Gold Vermeil or Sterling Silver.
Wedding Day Survival Kit
We all know that the day of the wedding can be incredibly stressful. The dress isn't fitting right, the eyelashes won't stay on, or the car won't start. There are so many things that have to happen for the big day to be a success, having a little survival kit could be a godsend!
Our cosmetics bags are perfect for holding nail glue, extra mascara, tissues, and airplane bottles. This thoughtful gesture can be made even more personal with a unique monogram featuring her new initials!
Anniversaries
We LOVE celebrating anniversaries here at The Southern Rose. They are a great way to remind ourselves and each other how far we've come and where we are going.
It doesn't matter if the anniversary is romantic or if it's just for fun, we have unique personalized gifts for the occasion.
Anniversary Date Decal
Our vinyl decals can be customized with 240 combinations of color and text styles (30 different colors and eight text styles)! You can use up to 10 characters, which means any date from 00-00-0000 to 99-99-9999 is possible!
A custom wedding date decal can be added to a shadowbox, scrapbook, or almost any smooth surface to create a thoughtful and unique personalized gift.
First-time Housewarming Gifts
Buying a home is a huge milestone in someone's life. It's really the capstone of becoming an adult. They've made an investment in their future, so why not help them remember their important date with personalized kitchen towels.
Available in red and tan, these basket-weave towels can be customized with the date of the big day, their name, address, or pretty much anything you can think of. You can also add a unique monogram instead. Either way, personalized towels can be a special and useful gift.
Birthdays
Birthdays really are the most fun to celebrate. They are reasons to get together with good friends and celebrate the individuals you care about.
And they can be celebrated in so many fun and fanciful ways. Some people like to spend a night out on the town. Some want to rent an awesome venue and throw an extravagant party. And some just want to buy a wheel of cheese and have a fun pasta night.
Whatever way the people you love like to celebrate, you can never go wrong with a unique personalized gift. Here are some of our favorite ideas.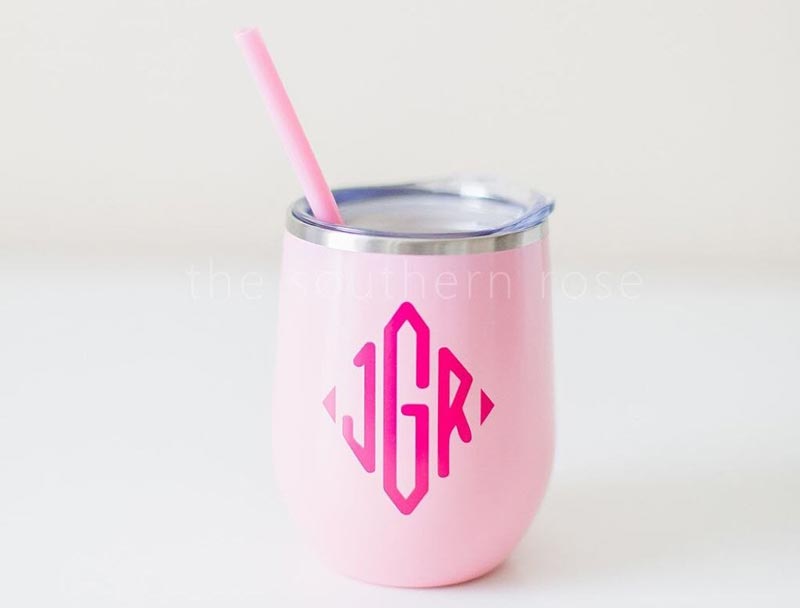 The Wine Lover
The Southern Rose offers unbreakable acrylic wine glasses as well as popular stainless steel wine glasses (with lids!) in a ton of different colors. What's even better is that you can add unique monograms to all of these glasses and create the perfect unique personalized gift.
The Fitness Lover
Do you have a friend that loves working out? The one that uses their treadmill or exercise bike to actually exercise instead of hanging laundry? You know, the one that is always in yoga pants (and looks great in them)?
A personalized headband is a great way to show them you appreciate their healthy habits and encourage them to keep it up. You can personalize it with a unique monogram, their name, or any other text up to 10 characters.
The Fashion Lover
You can never have too many purses, right? We offer lots of different styles of purses that you can personalize with a unique monogram and create a super unique and personalized gift they can't help but fall in love with.
With so many options to create unique personalized gifts for your loved ones, it's almost hard to decide where to start. We hope this guide sparked your creativity and gave you a few fun ideas for your friends and family or even yourself. You deserve a gift every now and then, too. So next time you're here picking out great gifts, get a little something for yourself.