Not too long ago, I blogged about how time was closing in on the arrival of our Knierim Knugget. At the time, I thought I had a full seven to eight weeks left (until due date) but little did I know, our dude would want to come just a tad early at 36w5d! Here's an abbreviated version of our birth story (maybe full story + details to come later). To summarize, we are absolutely smitten and can't believe God gave us this perfect human (oh, and we're really tired)! Welcome to the world, Knox Matthew Knierim, Mom & Dad are SO happy you joined us!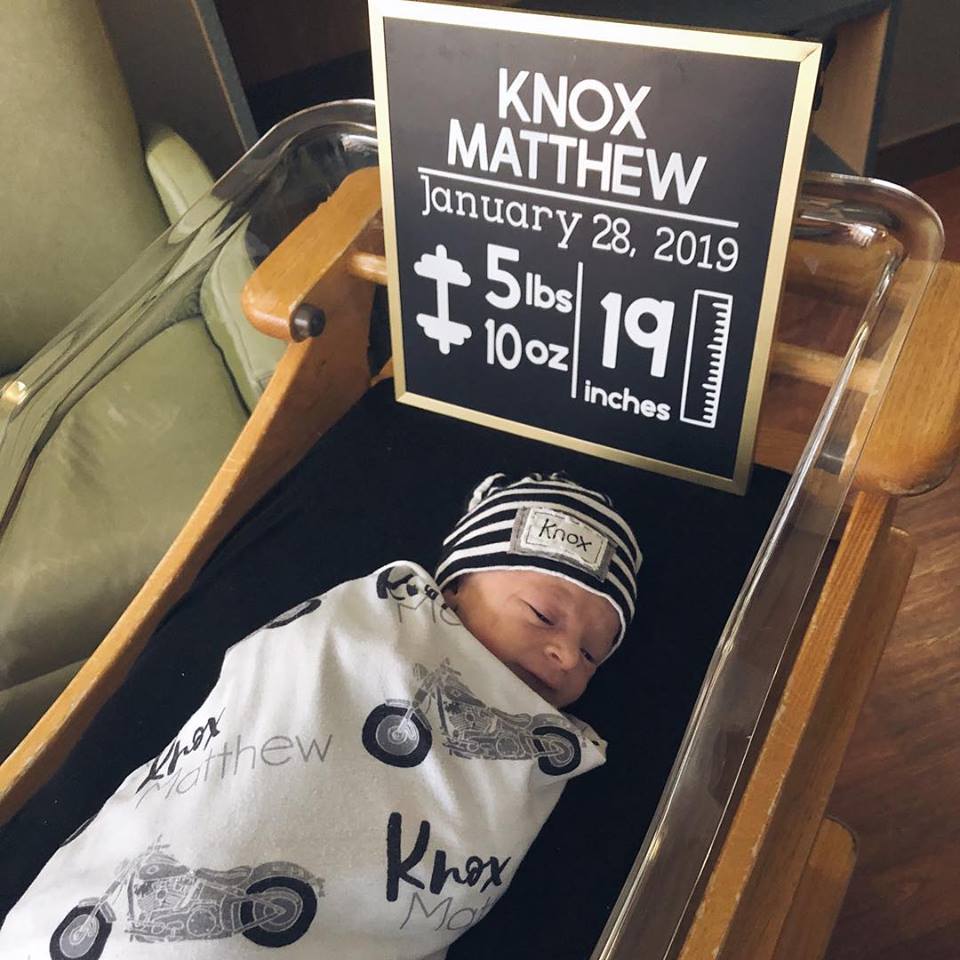 On Sunday, January 27th, the entire TSR team met at the shop to discuss what the next few weeks would look like as we prepared for me to be gone on maternity leave. I fully anticipated I would be at work the next day….and so did the girls. So, TSR team, THANK YOU for being flexible and rolling with the crazy these last 9 days!
After our meeting, we headed to the new southside Addison's (can I get a HALLELUJAH!!!) for a team dinner. Really, someone should let them know that their Thai Chicken Salad is spicy enough to induce labor (but also insanely delicious…). In fact, as I was eating it, Taylor said, "Careful, that's going to send you into labor tonight…" YEP. YEP, IT DID.
When I got home, Mollie followed me through the house as I got ready to relax (she never follows me so there was sign #1…) and watch some TV with Tyler.
Tyler: "Hey, do we have our hospital bags packed?"
Me: "No, my new pajamas arrive on Tuesday so I'll pack them then!"
*one hour later, my water breaks*
We headed to the hospital, both in extreme shock since I wasn't having any contractions or anything. It was the longest drive to Columbia as I realized I never even got my pre-baby pedicure… #fail
We checked in at 8:30pm and by 1:14am, we had the most beautiful baby boy I've ever seen in our arms. The details of my birth story will likely be one of my favorite blog posts to write (one day). I prepared and prayed for a natural birth (shoutout to Alleviation Therapy and Nicole Shelton for being such an incredible doula) and with Tyler's help and coaching, WE were able to rock a natural labor & delivery to get our sweet Knox! Seriously, one of the most amazing, empowering experiences ever. I can't wait to share it!!
For now, it's time for our next cycle of eat, poop, sleep…. with the greatest little blessing. If you haven't been in yet, the girls are having a HUGE sale at the shop to make room to FLIP the store with new goodies in the next few weeks. Go on in before THIS Saturday and help us out! I'll see you guys soon!