You guys mostly get to see the *cute* new arrivals & the fun us GALS have around the shop…. but what you may not know, is just how much those TSR MEN have to do. It's a good thing my Dad and my husband both love me and don't mind helping out, because let's be real, I can't put together a display quite right & I sure can't hang up some slat wall and get it level.
We're adding in several new, large display fixtures tonight so yesterday I realized Phase One of that project would require removal of two large, unneeded pieces + hanging some slatwall to expand our baby section. I'm really good at needing something and thinking I asked / prepared for it, but really only planned it in my head. So naturally, at 1pm, I sent out my SOS for help. Needed: two strong men, a saw, and some slatwall.
I texted Tyler at 1:09 and asked if we could work at the shop late. By 1:14, he had replied with a well-formulated plan.
I called my Dad for backup help at 3:08 and after a 3-minute phone call explaining what we were doing and my "SOS" situation, Dad was in to help too (even though he needed to pack for his conference he left for today).
…and by 7pm, those TSR dudes had the slatwall up and ready for some NEW ARRIVALS.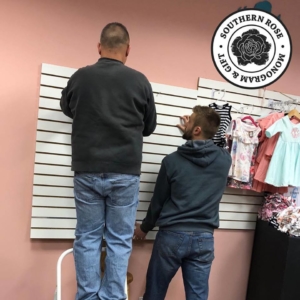 So, if you ever see Tyler or my Dad in public, just pat them on the back and tell them they're awesome, because they are. I sure don't give them enough credit for their BIG part in keeping this place running!
#thoseTSRdudestho