I'll be honest - I was 28 years old before I Googled "best way to mix hospital-grade disinfectant cleaner." Even then, I called my Dad right away because he always knows. Always.
We secured a hand sanitizer dispenser for the front of the store (still waiting for our shipment of foaming hand sanitizer but it is on the way!!) & Vindicator - a concentrated, hospital-grade cleaner. You only need HALF AN OUNCE per gallon of water to create a "holy-grail" level of cleaner. We aren't messing around. I'll have you know, after my phone call with my Dad where I had mild faith in my ability to mix & distribute said cleaner, he promptly swooped in to save the day (and the stores). See photo below for mixing bucket, funnel, professional spray bottles, and "rags." Shoutout to Matt Bowden for always having my back!
Friends, you should know we are taking this seriously and disinfecting the doors & counters regularly between customers. We want you to feel safe & secure shopping with us! As a reminder, we are closed on Monday/Tuesday for private shopping appointments only (offering curbside pickup these days). If we don't have an appointment, you are welcome to come in and shop. We will have staff in the store from 10a-4p on Monday/Tuesday to assist you. If you want to come in but don't have an appointment, I would recommend calling ahead.
We are open our normal hours Wednesday-Saturday (10-6 on W,Th,Fri & 10-5 on Saturday). Please enter through The Southern Rose door as we are keeping the door to Rosebuds locked in an effort to control the amount of customers in the store at one time. We hope to see you SOON in the stores!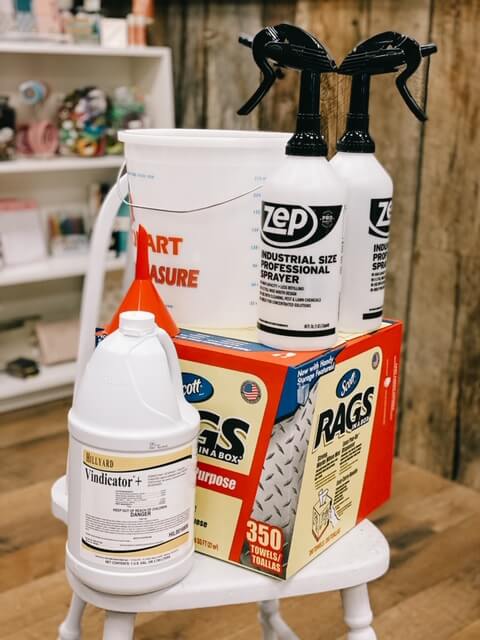 Today was our first day truly "open" since March 17. I couldn't really sleep last night (equal parts excitement/nerves and Knox randomly deciding to wake in the night again while he cuts this tooth -- #17?? I lost count).
A whole lot has happened around the stores in the last 50 days -- including a fresh coat of white paint to remove the pink (hallelujah!), a new light install in the fitting room, new track lights, and various other odd & end improvements. The biggest addition to our store(s) was the new website for Rosebuds - our baby + kid division. Our team worked really, really hard to continue bringing in fresh items, helping with custom orders, and continuing "normal" business operations as much as possible. It was quite the challenge to run two Instagram/Facebook accounts, balance two websites, and phone/text orders, but, we survived and came out better together in the end.
If you're nervous about getting out and about, we totally understand and hope you know we will still serve you (from the comfort of your own home). We are still texting photos of items, curating custom gift baskets, and shipping gifts with notes. You don't even have to leave your house! You can shop The Southern Rose & Rosebuds from home 24/7! Orders $30+ ship FREE right now or we are happy to meet you curbside for pickup. Please allow extra time for processing monogrammed orders during this crazy time. For non-monogrammed items, we can usually have your order ready for pickup same day. Just give us a call for a heads up & we'll have it ready! We also have private shopping appointments on Monday & Tuesday (the storefronts will remain closed these days to better serve our private shoppers). This week, Monday/Tuesday went smoothly & we enjoyed the relaxed, private shopping experience. We even had "unexpected" guests call in and come visit us between reserved appointments. You can message us or e-mail mackenzie@southernrosemonograms.com to secure your "alone time" in the stores on Monday/Tuesday. We really aren't sure how long this new, refined schedule will last but will continue updating as things progress.
Thank you all for your continued support! We love you!
- MacKenzie & The Southern Rose/Rosebuds Team -
Want to help us out? Leave a review on Facebook or Google! It truly helps us SO much!