There's a number of reasons why I support shopping at small, local businesses (even beyond the fact that I own one). Obviously, high on the list is the experience of shopping at an independently-owned establishment but what many consumers simply don't know is just how big of an impact each and every purchase has on our community as a whole.
According to Independent We Stand, for every $100 bill spent at a locally-owned business, $68 will stay in our community. That same $100 spent at a national chain? Only $43 stays in the community.
One estimate indicates that if every household in the Columbia-metro area spent

just $10 a month

at a locally-owned business instead of a chain, over

$5,705,880 would be returned directly to our community.
Over $5 million back to our community if every household in the Columbia-metro area spent just $10 a month at a locally-owned business instead of a national chain. (I might just keep saying this on repeat because wow….that's a large number!)
If you need more examples of why shopping local rocks, you can find them here.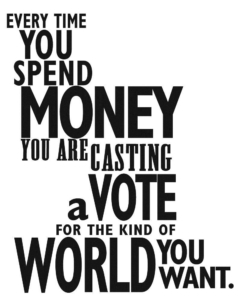 Sure, it is tempting to "save a buck" and all of us "small business owners" know that you have TONS of choices when it comes to shopping these days. I think I speak for many of us when I say that we truly appreciate each time you CHOOSE to come to us & support us. Really, thank you!
Here's to supporting a community rich in unique businesses. Let's grow Columbia business & continue to bring more visitors to our incredible community!
You can spend your $10 with us here from the comfort of your own home, in your pajamas, or heck, even when you relax in the bath!
P.S. Need other ideas of places to spend that $10? We've got a list of some of our "small business" friends below.
Fun Saturday: Gather your gals + go and hit these local gems. You won't be disappointed!
Plume, The Ink Cafe, Fringe Boutique, Peggy Jeans Pies, Kelly Fields Boutique , Harold's Doughnuts, B & B Bagel , D. Rowe's, Lizzi & Rocco's, Hawthorn Bank, Laura Rowe Photo & Design, BabyQuilts.com, The Grind
#shopcomo #visitcolumbia #visitcomo