While many people become enthralled with choosing their wedding colors, theme, and style, they forget that there's one more way to personalize your special day — monograms! More than just personalization, a wedding monogram is a physical representation of the intertwining of your lives. If you're looking for wedding monogram ideas to incorporate into your wedding, check out these top picks from The Southern Rose.
1. Wax Sealed Invitations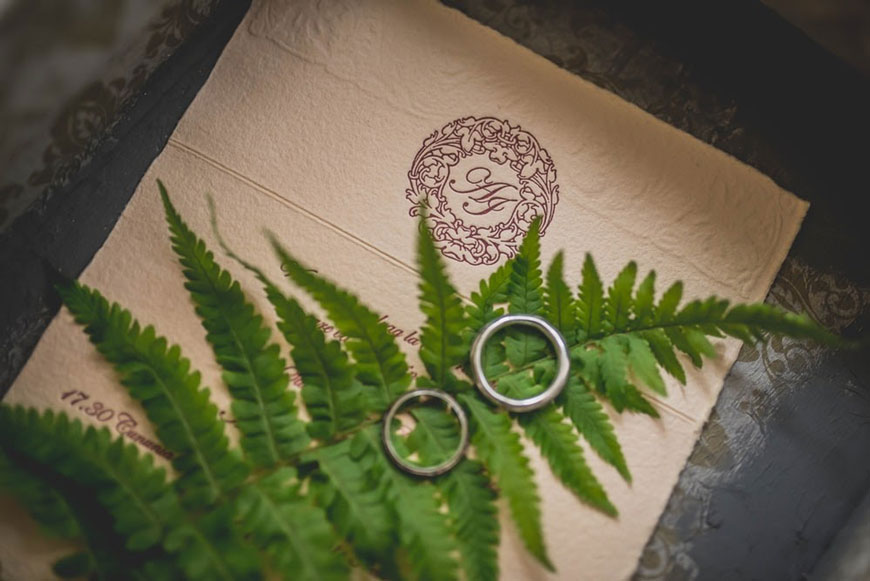 Once you create your custom monogram, it's not a stretch to add it to your invitations. If you've already included the monogram on the interior of your invitation, another wedding monogram idea is to also put it on a personalized wax seal for an extra special touch. Find wax in your wedding colors and order a seal with your initials to stamp each envelope with those special letters.
2. Your Aisle Runner
Many people have a plain runner rolled down the aisle for their wedding ceremony, but we think that's too simple for some weddings! Your wedding monogram initials belong in large format print at the beginning of that aisle. As every bridesmaid and groomsman walk down it, you get closer and closer to actually making those initials a reality.
This wedding monogram idea is perfect if you have a white runner, but it can also work with other colors. Just consider the contrast between your script and the runner color to ensure it's visible.
3. Cufflinks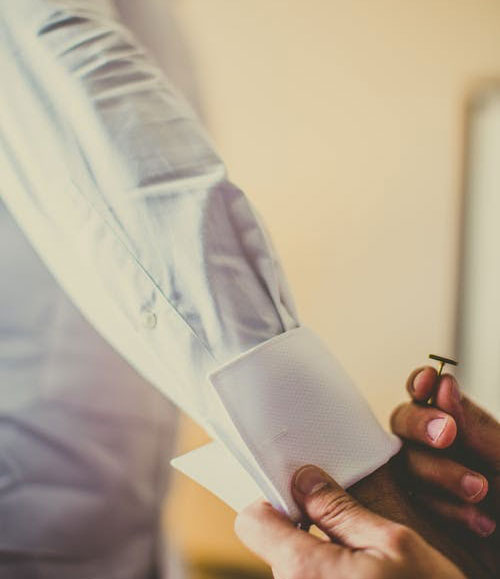 A personalized set of cufflinks is a great wedding monogram idea for the groom and the groomsmen. Your groom can have the wedding monogram engraved onto his, and make gifts for his best friends with their own initials. A classic pair of cufflinks can last decades, so choose your metal and engraving options wisely to ensure all your groomsmen wear these cufflinks again and again.
If the groom already has a pair of cufflinks he prefers, you can opt to embroider the cuffs of his wedding shirt instead. A minimalist basic script is all it takes to add an extra special touch to his attire. Personalize gifts for your bridesmaids as well with monogram sweaters, jewelry, or purses!
4. Ceremony Program
Your wedding monogram initials definitely belong on the ceremony program! Whether you have a large board that lists the day's events or you hand out a printed program to each guest, include your initials front and center at the top of the list.
Keeping your program simple and streamlined is very popular, but you do want to add a little bit of unique interest. A monogram is a perfect way to personalize without distracting from why everyone is attending your event.
5. Table Runner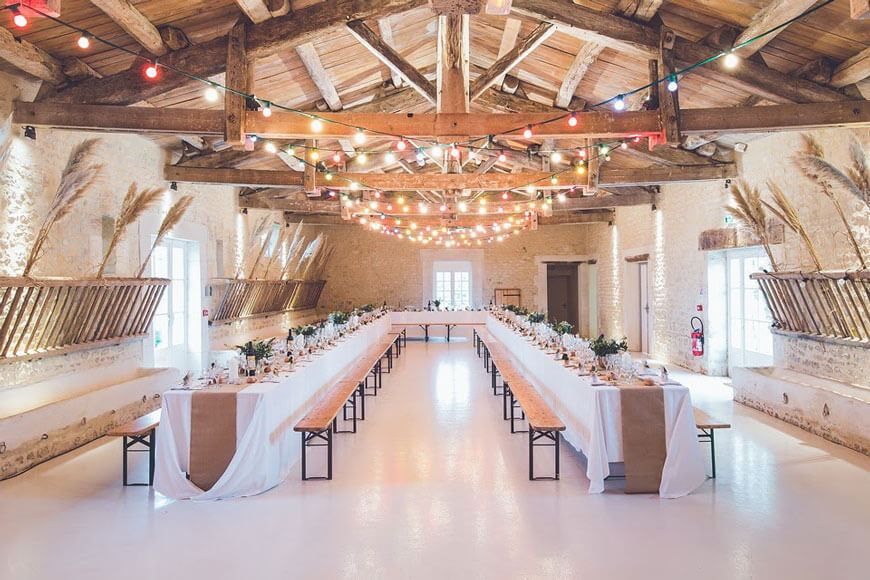 Similar to your aisle runner, adding your wedding monogram initials to your table runners is also a great way to spruce up a simple style. Most table runners are one solid color in one of the main wedding colors. They rely on flowers and place settings to elevate the look and feel of the décor. Add one more special element with a contrasting color monogram in the center or at the end of your table monogram.
This wedding monogram idea isn't a one and done! You can continue to use these table runners in your home whenever you host friends and family after your marriage.
6. Wedding Cake
When you choose your wedding cake, you have a variety of options that range from traditional to modern. Whether you want a three-layer cake with elegant piping and sugar flowers or a small naked cake topper with minimal decoration, you can add a monogram to anything! You're already customizing everything about your cake — from the look to the flavor — so take it a step further with this unique wedding monogram idea!
7. Drinkware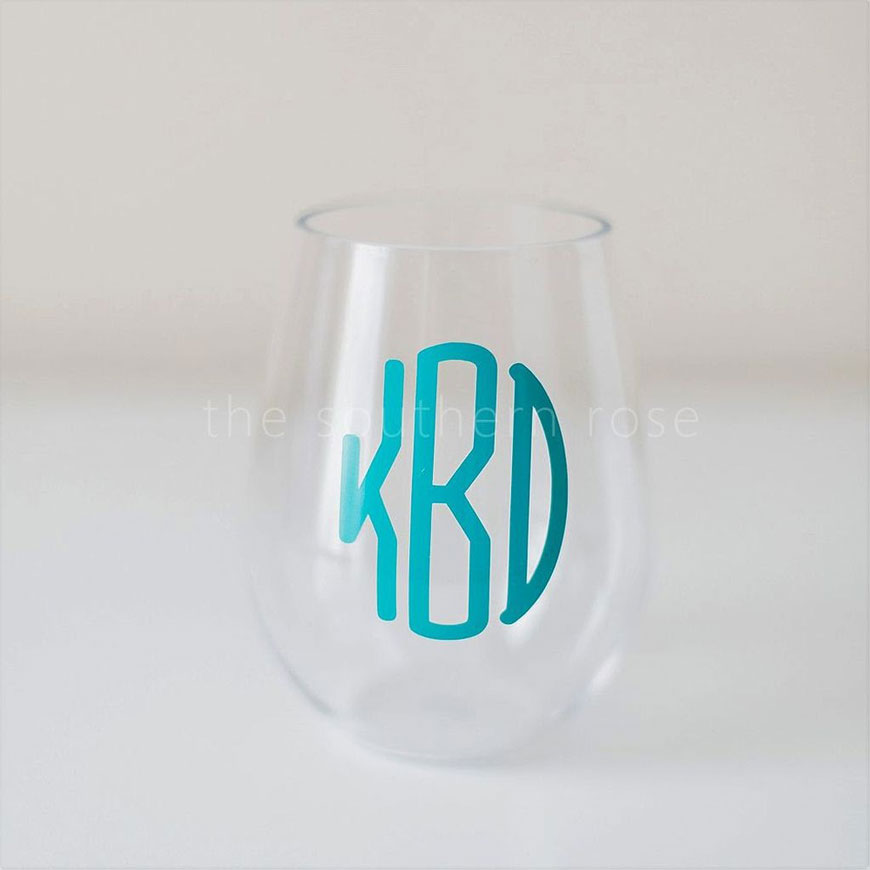 When it's time for cocktail hour, monogramming your wine glasses and drinkware is a perfect choice! Whether you buy simple decals with your initials or you sandblast them on each glass, you can play with colors, style, and theme easily. Even better, after your event, take some of these glasses home with you to create your first ever custom bar set!
This wedding monogram idea will be a cute reminder of your special day and crosses one essential item off your wedding registry.
8. Party Favors
Providing welcome gifts and party favors for your guests is a huge part of the wedding tradition. No matter what you're giving your guests, you can customize all or some of it with your wedding initial monogram. Create a custom tote with your initials to carry a variety of favors or hand out personalized hats to protect your guests from the sunny weather.
Wedding Monogram How-To
If you're confused about wedding monogram etiquette, that's OK — The Southern Rose is here to explain it all! Most people choose to do one of two styles of wedding monogram, one type for before the marriage ceremony and one for after.
Before the rings have been exchanged, any items in this part of the wedding (invitations, ceremony programs, aisle runner, etc.) should have the first initials of both the bride and groom. Once you're married, the new monogram is the bride's first initial first, the shared last initial in the middle, and last is the groom's first initial. This is the monogram you want to include on your drinkware, linens, and reception extras.
Now that you know how and what you can monogram, share your wedding monogram ideas with us too!