If you're a Southern gal, you know that monograms are an essential element of your wardrobe. They're practically mandatory! You can use monogram clothing and accessories to put your personal spin on nearly everything.
While you might love Southern monogramming, there could be a number of style tips you're missing out on. At The Southern Rose, we can help you with all the complicated decisions that come with choosing a monogram like how many letters to get, which letter goes in the middle, what font options you have, and many more. Are you ready to get started with monogramming all your everyday essentials? Read on here to learn more about Southern monogramming style tips and etiquette.
How Many Letters?
The number of letters you choose for your Southern monogram may be dictated by the store where you're shopping, but if you have a number of options it's good to know what they mean. Here is our breakdown of the different lettering styles and how you can arrange them.
Traditional
The traditional style is a three-letter monogram with the middle letter slightly larger than the first and last. Each letter stands for a different initial in your name. Usually, people organize the letters by first name, last name, and then middle name. You can slightly alter this traditional organization when you organize by first, middle, and last names.
Two Letter
For people who don't have a middle name, or don't want to include it in their Southern monogram, there is a two-letter option. Your first and last initials come one right after the other with no difference in size.
After Marriage
After you get married, you can opt for a double name Southern-style monogram that includes your first and middle initials stacked one on top of the other, your married last initial in a slightly larger font as the middle letter, and your maiden name initial as the final letter.
Another option for a married monogram includes your spouse's first initial in the setup. Place her first initial first, the couple's middle initials second, and his first initial last!
More Than Three
If you have more than one middle name, there are often options that allow you to include up to four letters in a Southern monogram. Since you have two middle initials here, all the monogram letters are generally the same size font.
Hyphenated Name
Another common monogram is for a person with a hyphenated last name. This monogram also has four letters, but the two middle letters are slightly larger than the letters on the ends. Organize these letters by your first name, last name with both hyphenated initials, and middle name.
What Can Get Monogrammed?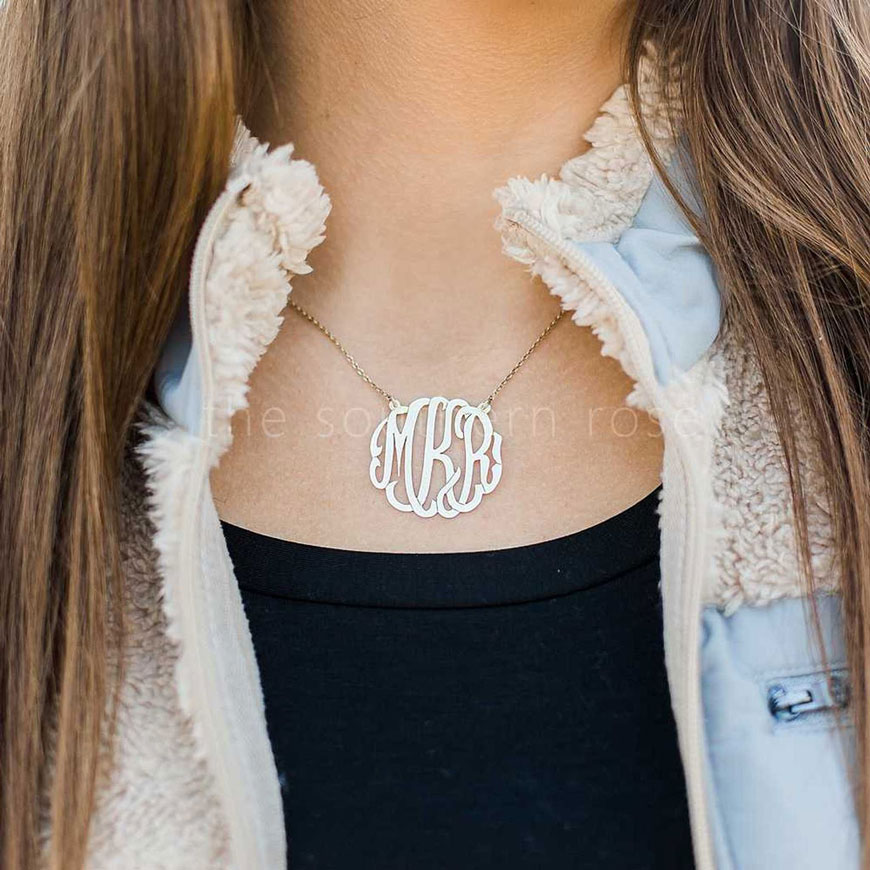 While you can get practically anything monogrammed, there are some traditional items that people prefer. For couples, barware traditionally has the man's monogram while the bedding belongs to the woman of the house. Whether you're following Southern monogramming traditions or not, you can choose whose initials you want or include both!
At The Southern Rose, we have tons of products that are available for monogramming including a variety of Apparel, Gifts, and Accessories. Browse everything from Drinkware and Jewelry to Rain Jackets and Purses to build a personalized Southern-style monogram collection you'll absolutely love!
Some unique monogram ideas for your home include luggage, table linens, glassware, and children's apparel.
Monogram Font
At The Southern Rose, we have a number of Southern monogram fonts for you to choose from. While the font options depend on what item you choose to have monogrammed, we offer at least two or three font styles for each of our monogrammed products, including:
Circle
Vine
Block
Octagon
Script
Diamond
Oval
Some of our monogramming options even allow you to write out your full name on a piece of glassware or a t-shirt, so make sure you explore all our vinyl font options as well!
Monogram Etiquette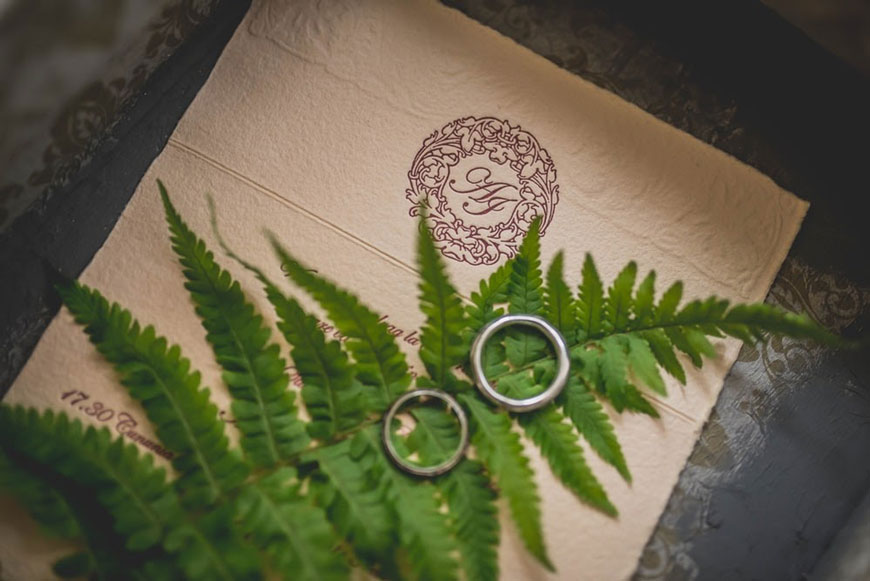 When it comes to Southern monograms, the only reason to follow the traditional etiquette is so that other people can understand and identify your monogram choices. There are certain rules to follow when it comes to monogramming wedding invitations and menus, but for the most part, you can put whatever you want on your personal items.
If you're using heirlooms that you inherited with a monogram that doesn't match your initials, you don't have to worry! Beautiful items handed down through generations or found at estate sales deserve a second life.
Wedding Monograms
You won't want to use your monogram until it's official, so all pre-marriage Southern-style monogramming should include the woman's maiden name. Post-marriage monograms — like dinner menus and party favors — will include her new last name.
Almost Monograms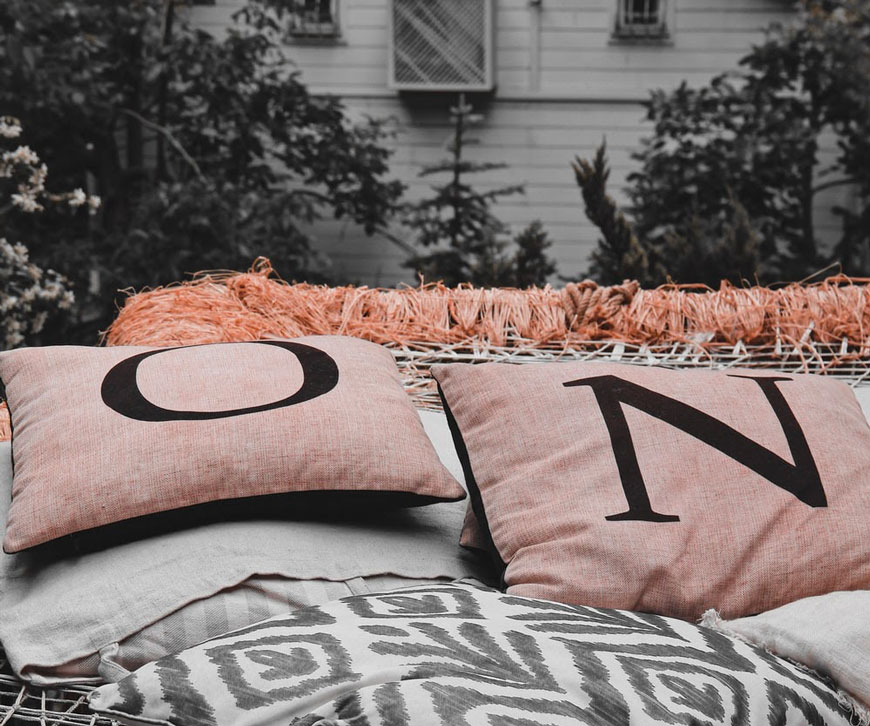 You might not want your name monogrammed on a variety of items, but that doesn't mean you have to forgo all embroidery options. Looking for something with a little humor that speaks to your personality? Consider almost monograms that have nothing to do with your name. How about putting YUM on your napkins or maybe a few ZZZs stitched onto your pillows?
Monograms with The Southern Rose
The Southern Rose is completely monogram-obsessed! If it exists, we have to monogram it. Explore our entire inventory of monogrammed items to find the perfect font, color, and style for you!
Join our VIP list and save on Southern monogram orders over $50 today!